Regular Price
$7964.00
Additional Savings:
If Paid By Check*
- $159.28
PressPlay Rewards**
- $318.56

Free Shipping (Liftgate Included)

* Instant savings if order paid by check
** Total rebate amount is subject to the PressPlay Rewards program terms & conditions
Rheem Complete Split System Gas Furnace 4 Ton 17 SEER 12.1 EER. RGRM Series 95% AFUE. 2Stage/Upflow
Short Desc.: Outside condenser, Gas Furnace and Cased Coil
CONDENSING UNITS: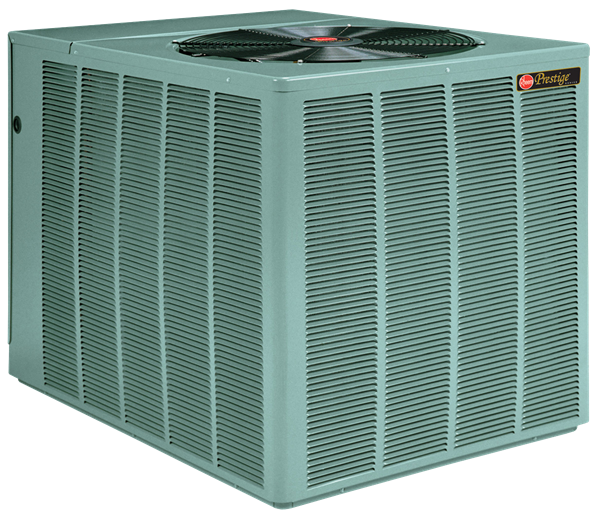 DIMENSIONS:
33 Height
44-3/8 Width
31-1/2 Depth
Features:
Rheem Prestige Series™ 18 SEER Two-Stage Condensing Unit equipped with the Comfort Control² System™
Serial communication enabled, when installed as part of a communicating system, featuring advanced diagnostics, active system monitoring & protection, and a "call for service" homeowner notification on the thermostat.
Ultra High Efficiencies up to 19.50 SEER and 14.00 EER
10-Year limited parts warranty, plus a 10-Year conditional unit replacement warranty (registration required)
Featuring Earth-Friendly R-410A Refrigerant
HUMIDITY CONTROL : When matched with a Prestige Series Air Handler, the system adjusts airflow to help control humidity for unsurpassed comfort in the cooling mode.
DURABLE CABINET: Our galvanized steel cabinet protects your Rheem unit from the elements, helping reduce maintenance expense.
LOW COROSION & SOUND: A special base pan elevates the unit off the pad and away from corrosive condensation. More quiet performance and lower vibration levels also result.
FAN-TASTIC: Our motor mount prevents damage to your fan motor – extending its service life and providing quiet operation and improved efficiency.
18 SEER Two-Stage
Efficiencies up to 19.50 SEER/14 EER
Nominal Size: 2 to 5 Tons
Cooling Capacities: 24,600 to 57,200 BTU/HR
Dual Drive Scroll Compressors
warranties:
Conditional Unit Replacement Warranty - 10 Years (Registration Required)
Limited Parts Warranty - 10 Years
Documents:
Gas Furnace Unit:
DIMENSIONS:
34 Height
21 Width
28-1/16 Depth
Features:
Two stages of operation to save energy and maintain optimal comfort level.
Furnace operates at 70% capacity for low-heat and 100% capacity for high-heat.
Compatible with single or two-stage thermostat. (For optimal performance a two-stage thermostat is recommended.)
Heat exchanger is constructed of all stainless steel for maximum corrosion resistance and thermal fatigue reliability.
Low profile "34 inch" design is lighter and easier to handle and leaves room for optional accessories.
Left or right side gas, electric, and condensate drainage connections.
Integrated control board manages all operational functions and provides hookups for humidifier and electronic air cleaner.
An insulated blower compartment, a slow-opening gas valve and a specially designed inducer system make it one of the quietest furnaces on the market today.
Variable speed blower motor technology provides ultimate humidity control, quieter sound levels and year-round energy savings.
Optional indoor or outdoor combustion air. In addition, combustion air may be piped to either the top or side of the cabinet on all upflow models. A special molded fitting is provided to ease installation.
Solid bottom is standard.
Control board diagnostics. A variety of cooling coils and plenums designed to use with the Rheem Classic® Series 95% A.F.U.E. gas furnaces are available as optional accessories for air conditioning models.
Upflow Model
ECM Motor
Input Rates: 45,000 to 120,000 BTU/HR
Up to 95% A.F.U.E
Warranties:
Conditional Unit Replacement Warranty - 10 Years (Registration Required)
Conditional Parts Warranty - 10 Years (Registration Required)
Limited Parts Warranty - 5 Years
Heat Exchanger Warranty - Limited Lifetime
Documents:
Consumer Literature Sales Fact Sheets Specification Sheet Submittal Sheets Tax Credit Form 2011 Use and Care Instructions
Cased Coil Unit: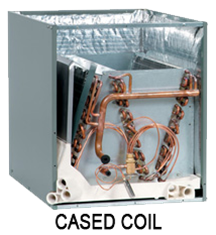 Features:
Rheem®Indoor Coils are designed for use with Rheem out- door units and are available for vertical upflow or downflow, and horizontal left or horizontal right airflow. When matched with Rheem outdoor units, the coils provide a nominal capacity range from 24,000 BTU/HR [7.03 kW] to 60,000 BTU/HR [17.58 kW].
Constructed of aluminum fins bonded to internally grooved copper tubing.
Coils are tested at the factory with an extensive refrigerant leak check.
Coils have sweat refrigerant connections.
Ideally suited for new installations or add on air conditioning.
Feature two sets of 3/4" [14.1 mm] N.P.T. Condensate drain connections for ease of connection.
Coils are A.R.I. certified for system application with variety of Rheem outdoor units.
Condensate drain pan is constructed of high grade, heat resistant, corrosion free thermal-set material.
Compatible with Germicidal Light System (UV resistant)
Bi-Directional airflow eliminates the need to switch any internal components from horizontal left to right.
Unique drain pan design maximizes application flexibility and condensate removal.
Warranties:
Conditional Parts Warranty - Equal to the Limited Parts Warranty of the Outdoor Model (Registration Required).

Limited Parts Warranty - 5 Years
Cased and Uncased N-Coil
R-410A
AC, HP, & Furnace applications
13-16 SEER
Documents: Specification Sheet