Regular Price
$4399.00
Additional Savings:
If Paid By Check*
- $87.98
PressPlay Rewards**
- $175.96

Free Shipping (Liftgate Included)

* Instant savings if order paid by check
** Total rebate amount is subject to the PressPlay Rewards program terms & conditions
Rheem Complete Split System Gas Furnace 2.5 Ton 14 SEER 11.5 EER. RGPT Series
Short Desc.: Outside condenser, Gas Furnace and Cased Coil
CONDENSING UNITS: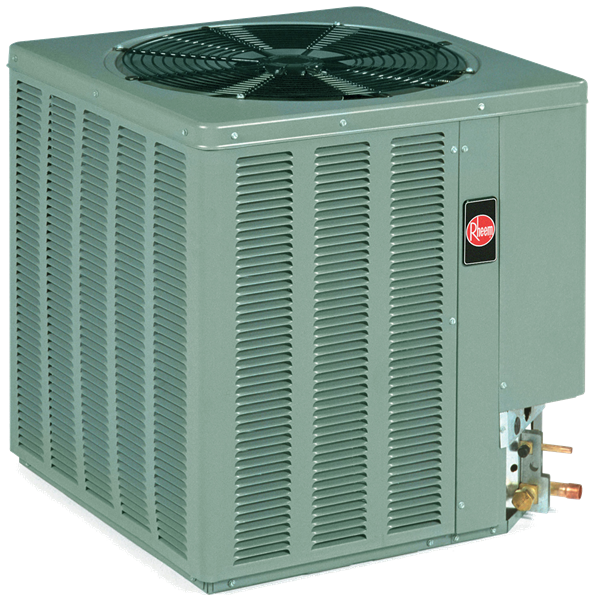 DIMENSIONS:
24-1/4 Height
27-5/8 Width
27-5/8 Depth
When you look at these many features, you'll see our Value Series 13-SEER Air Conditioners featuring R-410A refrigerant deliver quality and value.
CABINET OPTIONS: Choose between a painted louvered steel cabinet or mesh wrap.
FAN MOTOR MOUNT: The motor mount extends the service life of the fan and motor while reducing sound and vibration. Air is discharged upward away from bushes and shrubs. The discharge pattern of the top grille provides minimum air restriction, resulting in quiet fan operation.
BASE PAN: The base pan encourages drainage of condensation while reducing corrosion.
EASY SERVICE ACCESS: All controls are accessible by removing one service panel. Removable top grille provides access to the condenser fan motor, compressor and condenser coil.
13 SEER
Efficiencies up to 14.5 SEER/12.80 EER
Nominal Sizes: 1.5 to 5 Tons
Cooling Capacities: 18,200 to 58,000 BTU/HR
Warranties
Compressor Warranty: 10 Years

Conditional Parts Warranty - 10 Years (Registration Required)

Compressor Warranty - 10 Years and Limited Parts Warranty - 5 Years
Documents:
Consumer Literature Sales Fact Sheets Specification Sheets Submittal Sheets
Gas Furnace Unit: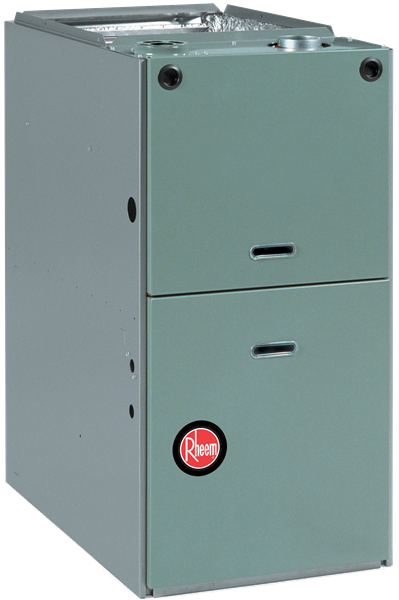 DIMENSIONS:
34 Height
21 Width
28-1/16 Depth
Features:
Super-Quiet Design. To help improve the sound quality of the Rheem Classic® Series Super Quiet 80™, we re-engineered the door and top-plate to provide a sound barrier between the furnace's operation and your home.
Heat Exchanger. Awarded three patents, the Rheem Classic® Series Super Quiet 80™ heat exchanger is renowned for its dependability and efficiency. It's constructed of aluminized and stainless steel for maximum resistance to rust and corrosion. And it's backed by a 20-year limited warranty.
Induced Draft Motor. This draft inducer, which was specifically designed for the Super Quiet 80™ gas furnace, quietly provides
air for combustion while simultaneously venting outdoors the products of combustion from the furnace heat exchanger.
Gas Valve. The redundant gas valve is a 24-volt slow-opening valve that delivers gas in a regulated flow to the patented "in-shot" burners.
In-Shot Burners. The natural (or optional LP) gas is ignited by the direct spark ignition at the in-shot burners. The in-shot burner's
shutter-free design requires no adjustments to regulate the air/gas mixture.
Direct Spark Ignition. Direct spark ignition is an extremely dependable and efficient way to light the burner. And it eliminates the need for a standing pilot. For added safety, the remote flame sensor constantly monitors the burner flame to ensure it is operating as it should.
Adjustable Air Speed. Thanks to adjustable controls for the blower, your contractor can precisely match airflow to the specific comfort requirements of your home.
Integrated Furnace Control. The "Brain" of the Rheem Classic® Series Super Quiet 80™ is the Integrated Furnace Control (IFC) which directs all activities of major furnace components. Built-in diagnostics allow for quicker & easier service calls, saving you valuable time & money. The control features low-speed continuous fan operation and accessory terminals for less expensive installation of additional Indoor Air Quality (IAQ) Products.
Easy Access Washable Filter. The Rheem Classic® Series Super Quiet 80™ is equipped with a permanent, washable filter that's easy to access and clean. You won't ever have to deal with the hassle and expense of replacement filters.
ECM X-13 Blower Motor.
Upflow/Horizonal Model
Input Rates from 50,000 to 150,000 BTU/HR
80% A.F.U.E
High Efficiency - ECM X-13 Motor
Warranties:
Conditional Parts Warranty - 10 Years

(Registration Required).

Heat Exchanger Warranty - 20 Years.
Documents:
Consumer Literature Sales Fact Sheets Specification Sheet Submittal Sheets Use and Care Instructions
Cased Coil Unit: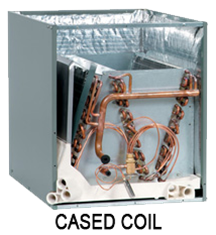 Features:
Rheem®Indoor Coils are designed for use with Rheem out- door units and are available for vertical upflow or downflow, and horizontal left or horizontal right airflow. When matched with Rheem outdoor units, the coils provide a nominal capacity range from 24,000 BTU/HR [7.03 kW] to 60,000 BTU/HR [17.58 kW].
Constructed of aluminum fins bonded to internally grooved copper tubing.
Coils are tested at the factory with an extensive refrigerant leak check.
Coils have sweat refrigerant connections.
Ideally suited for new installations or add on air conditioning.
Feature two sets of 3/4" [14.1 mm] N.P.T. Condensate drain connections for ease of connection.
Coils are A.R.I. certified for system application with variety of Rheem outdoor units.
Condensate drain pan is constructed of high grade, heat resistant, corrosion free thermal-set material.
Compatible with Germicidal Light System (UV resistant)
Bi-Directional airflow eliminates the need to switch any internal components from horizontal left to right.
Unique drain pan design maximizes application flexibility and condensate removal.
Warranties:
Conditional Parts Warranty - Equal to the Limited Parts Warranty of the Outdoor Model (Registration Required).

Limited Parts Warranty - 5 Years
Cased and Uncased N-Coil
R-410A
AC, HP, & Furnace applications
13-16 SEER
Documents: Specification Sheet